Hillary Clinton Falls Down Flight Of Stairs During International Trip
Hillary Clinton tumbled down a flight of stairs during the international leg of her book tour. As a result of her fall, Clinton delayed the taping of the Graham Norton Show. When she finally made it to the show, she was wearing a walking boot.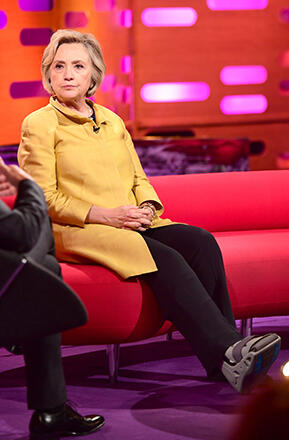 Clinton explained that she hurt herself when her heel got caught and she fell backwards:
I was running down the stairs in heels with a cup of coffee in hand, I was talking over my shoulder and my heel caught and I fell backwards
She said she realized she had a serious injury when she tried to get up but felt pain in her foot:
I tried to get up and it really hurt. I've broken my toe. I've received excellent care from your excellent health service.
The former Secretary of State was doing the rounds in the U.K. as part of her international book tour. She is promoting her most recent book What Happened, which attempts to explain how she lost the presidential election to Donald Trump.
Photo: Getty Images