Restaurant Forced to Close After Supporting Trump

A restaurant in Tucson, Arizona, is being forced to shut down after posting support for President Donald Trump and standing for the national anthem on Facebook.
The two owners of Cup it Up American Grill, Jay Warren and Christopher Smith, posted: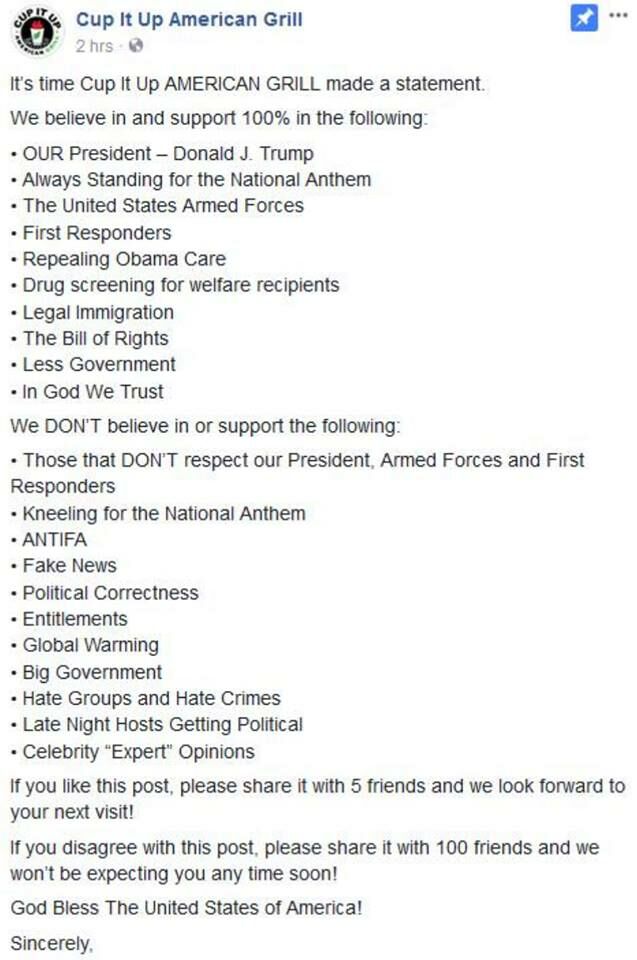 The post went viral, likely because it stated their bold support for the president, standing for the national anthem, and repealing Obamacare. But since then, the restaurant has received nonstop threats and received so many phone calls that several employees quit their jobs.
The post has since been deleted and the restaurant owners have apologized.
Ron Sanchez, the father of one of the workers who worked at the restaurant, stated:
"People threatened to burn down the restaurant with the owners in it. It's a crazy world we're in."
On October 9, the restaurant announced it would close down because of the safety concerns. Signs outside the restaurant read:
We have made a decision to close our doors indefinitely as of today, Monday, October 9, 2017. The safety of our employees, and our families is of great concern and is our #1 priority at this time.

We would also like to extend a special thanks to our Military and First responders. Thank you all and God Bless.